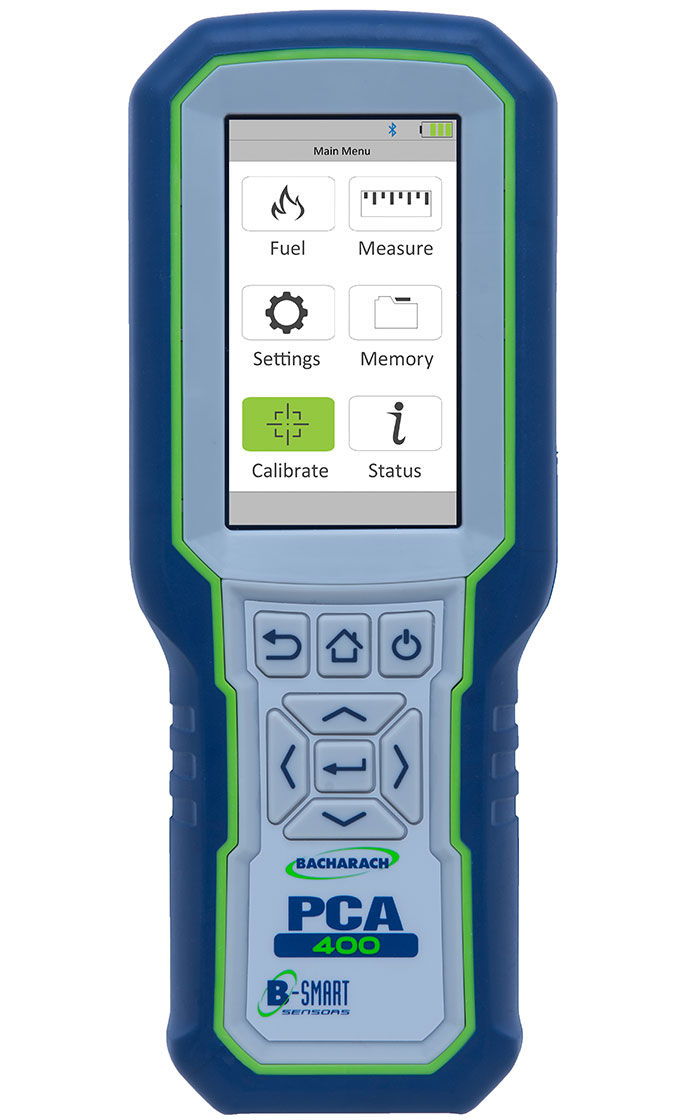 PCA® 400 Combustion & Emissions Analyzer
Hand-held Combustion & Emissions Analyzer for Industrial Applications
Bacharach's PCA® 400 Combustion & Emissions Analyzer offers everything you and your technicians need to commission, tune, maintain and certify any boiler. It is perfect for spot-checking and tuning your engines with the high-range CO sensor and available sample conditioner. Whether it's boiler combustion or emissions testing of your natural gas, stationary genset or mobile fleet vehicles, monitoring your emissions is fast, easy and accurate.
Users have the option to save measured data in the unit as discreet tests, or stream it live via Bluetooth® communications to a PC or other smart hand-held device for compliance reporting.
Reports are easily and quickly generated to satisfy compliance requirements. Interchangeable power options (rechargeable Li-Ion, 'AA' alkalines or line power) ensure the unit is always ready for use.
Probes and hoses come in a variety of lengths and materials to satisfy a wide range of applications, including NOx, SO2 and other requirements.
Automatic sensor protection not only guards the sensors from damage, but doubles their measurement range under high load conditions for increased flexibility.
*Note: The PCA® 400 calculates CO2 value based upon other measured values during the combustion process. It does not measure CO2 directly.
Versatile analyzer for many commercial and industrial applications with up to 4 gas sensors (O2, CO, NO, NO2 and SO2)
Optional active sample conditioner provides superior accuracy for low NOx and SOx applications
Real-time PC software allows technicians to view and save live data for easy compliance reporting
Combustion App allows users to remotely operate the analyzer and create custom reports with comments which can be sent via email (available for Android & iOS)
Long life O2 sensor with 5 year warranty reduces maintenance costs and downtime
Automatic dilution mode and sensor protection helps technicians protect the analyzer in harsh environments, extending sensor life
Dual Bluetooth® and IrDA printer allows technicians to reproduce combustion and emissions reports in the field
Quick and easy B-Smart® Sensor replacement in the field reduces downtime and doesn't require calibration gas
Specifications
Gases Detected
All hydrocarbons/combustible gases, including but not limited to: acetone, acetylene, benzene, butane, ethanol, ethylene oxide, gasoline, hexane, hydrogen, industrial solvents, methane, methanol, naptha, natural gas, paint thinners and propane
Sensitivity
Low sensitivity mode: 50 ppm methane

High sensitivity mode: 20 ppm methane

Response Time
1 second
Leak Indicators
Visual (red/green LED) and audible (via internal speaker)
Automatic Background Adjustment
Yes
Power
4x AA batteries
Run Time
14 hours typical (alkaline batteries)
Size (H x W x D)
Unit: 6 x 2 x 1.5 in. (15.3 x 5 x 3.8 cm)

Probe: 12in. (30.5cm)

Weight
6 oz (170 g) with batteries
Sensor Life
5 years (typical)
Operating Conditions
32 to 104°F (0 to 40°C), 15 to 70% RH (non-condensing), 1 ATM
Warm-up Time
1 minute (approximate)
Approvals
CE mark

UL 913 Class 1, Division 1, Groups A, B, C & D

Warranty
2 years (including sensor)
[1] Depending upon combustion equation setting (North American or Seigert) – see manual for details
[2] Available as manually-saved or datalogged records